Your smile is your greatest asset. It's the first thing people notice about you, and it leaves a lasting impression. If you've been dreaming of achieving a perfect, straight smile, now is the perfect time to make that dream a reality with Invisalign
Gone are the days of traditional braces. Invisalign is a cutting-edge orthodontic treatment that blends seamlessly into your daily routine. This revolutionary system employs a series of custom-made, clear aligners to gradually and discreetly straighten your teeth. Say goodbye to the noticeable wires and brackets and embrace a solution that lets your natural smile shine through.
The Invisalign Advantage

Invisalign has redefined the world of orthodontics by offering a comfortable and virtually invisible alternative to traditional braces. With Invisalign, you can discreetly straighten your teeth without the use of metal brackets and wires. This innovative treatment involves a series of clear, removable aligners that are custom-designed for your unique smile. As you progress through each set of aligners, your teeth gradually shift into their desired position.
Here's why Invisalign is a popular choice:
Invisibility: The clear aligners are barely noticeable, allowing you to maintain your confidence throughout treatment.
Comfort: Made from smooth, comfortable plastic, Invisalign aligners are gentle on your mouth, causing less irritation than traditional braces.
Removability: You can easily remove the aligners when eating, brushing, and flossing, ensuring that your oral hygiene remains impeccable.
Faster Results: In many cases, Invisalign can produce results more quickly than traditional braces, giving you the smile you desire sooner.
Why Metro Dental?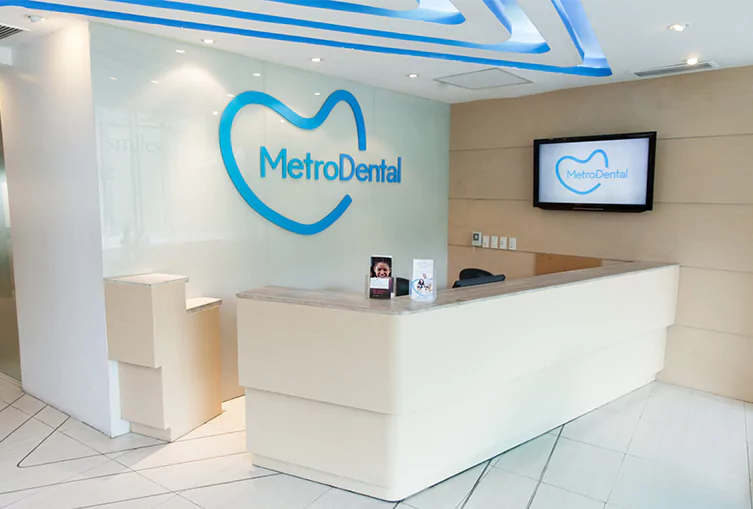 Metro Dental is committed to delivering exceptional dental and orthodontic care. Our dentists would help patients achieve the smile of their dreams using the latest advancements in orthodontics. We use state-of-the-art technology to ensure the most precise and comfortable Invisalign treatment.

Don't delay – book your consultation with us today!
and take the first step toward achieving the smile you've always desired. 
The promo runs from October 10 to December 20 only! With a generous Php40,000 discount,
you are one step closer to your perfect smile!